Rosa López Calull, was born in Barcelona in 1960, she is a painter, teacher, psychoeducationer clinical and psychoanalyst.
Manager of Tangram ( Art - Education- Psychoanalysis ), since it was found in 2002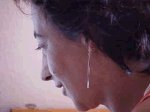 Curriculum and experience as a visual artist
Curriculum and experirnce as a teacher
35 years working in educational area.
She holds a Belchor's degree in Education, major in Elementary Educaction, Catalan's Teacher and a Postgraduate in Teaching of the Viaual Arts.

Curriculum and experience as a psychoanalyst and psychoeducation clinical
23 years training in analytic area.
She started personal analysis in 1992 and she received her formal psychoanalyst training at Grupo Cero School of Psychoanalysis and Poetry. She holds a Master's in Clinical Psycho-Pedagogy from León University (UL) and Neuronal Science and Mental Health Institute (INSM) in Barcelona.

Experience in Tangram
She found Tangram , Art - Educació - Anàlisi, in 2002

Nowadays, she is working as a painter, teacher and pychoeducation clinical.